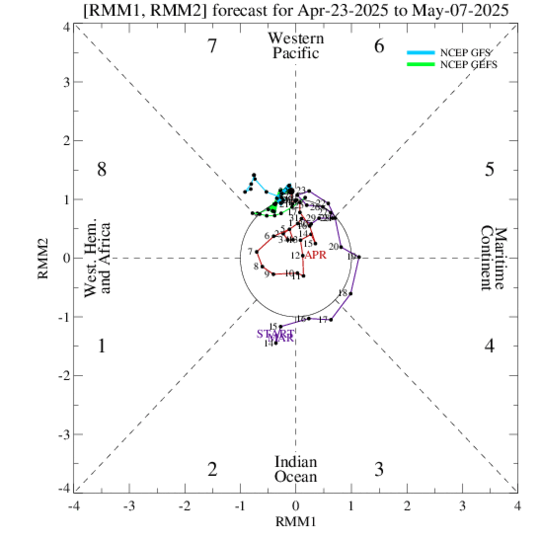 Current North Atlantic Oscillation (NAO) Highlights... are for the indice at +1.5 Standard Deviation (SD) above normal-mean, to be weakening slightly in the short-term. A cold front over the Ohio River Valley will push east allowing for falling Heights, as temperatures fall to slightly below seasonal levels March 10-11. The overall progressive pattern will allow for quick moderation as the trough lifts-out of New England... with temperatures returning to above normal levels March 12-13. Due to a highly active Phase 4 Madden Julian Oscillation (MJO) wave over the Pacific Maritime Continent... the dominant feature will be an intense jet-stream of Pacific origin, allowing for a continuation of above to well above normal temperatures in New England March 14-20. The chart above from NOAA's Climate Prediction Center (CPC) forecasts this intense tropical wave to propagate from Phase 4-5 around the middle of the month... & enter Phase 6-7 around March 22-24. This may encourage a brief significant pattern change (adjusting my initial timing from March 14-16) as high pressure builds in the east-central Pacific... in association with a return of the

Negative

Phase of the Eastern Pacific Oscillation (

EPO

) Ridge that may encourage a brief +PNA, -AO &

-NAO

influence as the existing Polar Vortex shifts east-southeast March 25-31.
Prepared by: Daniel

Viens